Loyalty Card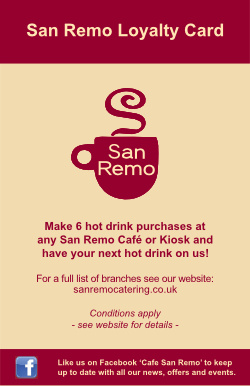 As an incentive for our regular customers, San Remo operates a Loyalty Card scheme which rewards regulars with one free hot drink for every six hot drinks purchases made at any of our Cafés or Kiosks.
To take part, all you need to do is request a Card from the staff and then present it each time you make a hot drinks purchase when the Card will be stamped. Once you have 6 stamps and the Card is full, you can then claim your free hot drink.
Please note that use of the Card is subject to the conditions below.
Conditions of Use
The following conditions apply to the use of the Loyalty Card:
A Loyalty Card presented with all positions validly stamped may be exchanged for a free hot drink at any San Remo Café or Kiosk.

A Loyalty Card is not valid unless all positions are marked with an official San Remo stamp.

A Card will be stamped once per purchase transaction.

Card positions will be stamped in black for coffee or hot chocolate and red for tea. Where a purchase includes more than one type of drink the card will be stamped for the higher value type.

Cards should be presented for stamping or offer claim at the time of purchase and may not be applied retrospectively.

Only fully stamped Cards may be used to claim the offer. Two or more partially stamped cards may not be used collectively.

When claiming the offer a full Card must be surrendered for cancellation. Only one claim is allowed per Card.

The free hot drink offered will be of the same type as the majority of the stamps on the Card. A lower value type may also be chosen.

A claim may be refused for any Card which in the opinion of San Remo Management is or appears to be unofficial or to have been tampered with.

A Card has no monetary surrender value.

The offer may be withdrawn at any time at the sole discretion of San Remo Management.